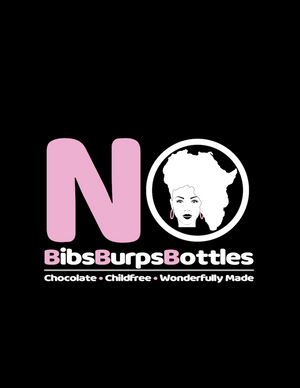 Our Mission
At #NoBibsBurpsBottles, our mission is to EMPOWER, HIGHLIGHT AND CELEBRATE Childfree African American/Black Women to embrace and live their best childfree life, free from societal expectations and stereotypes. We strive to create a safe and authentic space that validates their choices, while fostering a sense of community and belonging. There is something truly special about being CHOCOLATE – CHILDFREE & WONDERFULLY MADE!

There are still many who just do not get it! Our mission extends beyond just supporting childfree Black women; we also strive to foster a broader understanding and acceptance of their choices within society. By engaging in educational initiatives and fostering dialogue, we aim to combat stigma and create a more equitable world where all individuals are respected and celebrated, regardless of their decision to have children or not.

Our Reminder to All: "Womanhood is NOT synonymous with Motherhood!"
The Visionary & Founder
Dr. Angela L. Harris knew in her late twenties that she did not want to have children. She often shared that she "never felt maternal" or "longed for motherhood" like many of her friends, family, and colleagues. Dr. Harris felt alone and guilty for not having a desire, want or need to have children. She wondered if other women, more specifically, Black women, felt the same way.
In 2017, Dr. Harris created a survey that collected the personal stories and reasons why Black women, 30+ years old, were childfree. She was amazed at the high number of Black women that shared her same experiences, thoughts, and feelings about being childfree. Their stories and testimonies became the foundation for her first book, "#NoBibsBurpsBottles: The Stories of African American Women without Children" *(work in progress/manuscript). Dr. Harris was NOT alone!
Dr. Angela L. Harris is currently the Assistant Dean of Students at a small private liberal arts college in North Carolina. She has extensive higher education experience – empowering young adults to thrive, achieve and succeed - both in their academic and personal endeavors.
Dr. Harris completed her doctorate degree in Clinical Psychology from Wright State University and her post-doctoral training at the University of South Carolina – Counseling & Psychiatry Department. She worked as a Staff Psychologist and Group Coordinator at Ohio University. She is also a proud graduate of THEE nation's 1st HBCU, Cheyney University.
Through her passion and by sharing her own narrative, Dr. Harris has raised public awareness regarding childfree Black women by creating an engaging and welcoming online community that extends to include virtual programming and events, in-person meetups, online store, podcast, blog, YouTube channel, and media engagement (NPR, Scripps News, and Huff Post).
Dr. Harris wants Childfree Black Women to know that:
We are not old maids.
We are not less than.
We too, can have rich, fulfilling and productive lives - without the title of mother.
The #NoBibsBurpsBottles Podcast
Our podcast represents THEE #1 podcast that EMPOWERS, HIGHLIGHTS AND CELEBRATES African American/Black women who are childfree by choice or childfree by circumstance! We aim to dispel the old-maid myth and remind childfree Sistahs that they are wonderfully made!

Podcast *BONUS* episodes may include, but are not limited to, mental health, wellness, self-improvement, singleness, relationship/marriage, faith and spirituality, financial literacy, and childfree Black male and couples' perspectives.

"My Authentic Childfree Life Blog"
(Photo: iStockphoto / NNPA)
We recognize that being childfree is a personal decision that holds unique significance for Black women, who often face additional pressures and cultural narratives surrounding motherhood. #NoBibsBurpsBottles wants to challenge these narratives, break down barriers, and promote self-determination for childfree Black women, allowing Sistahs to define their own paths and prioritize their individual desires and aspirations.
Our blog is where we share our honest thoughts and feelings about everything childfree: positive and challenging experiences, pop culture and reality TV shows, interesting encounters being in child-friendly spaces, and much more!
Empowerment Services & Events
Through our various programs, resources, and advocacy efforts, we aim to provide a supportive network that offers education, guidance, and encouragement. We seek to amplify the voices and experiences of childfree Black women, challenging societal norms and highlighting the diverse narratives and perspectives within our community.
Just Be You: Motivational Coaching (20 minutes)

Are you ready to have a sistah-girl chat with someone who will be your personal coach and biggest cheerleader along your childfree life journey?

The goal is to assist you in making your own discoveries and creating a life that is determined by you! You will have more self-awareness and confidence to change the way you've been living. You will still feel the societal pressure, but you will know how to handle it with positivity - because you know who you are and what you stand for.


Consultation topics can include, but are not limited to:
Defining who you are and what you want in life.
Dealing with feelings of guilt and uncertainty as you get older.
Managing being the only childfree woman in your family or friend group.
Living single and navigating the dating world.
Finding your safe space of being a woman of color and childfree.
Strengthening your mind, body and spirit.
The "Chocolate & Childfree" Virtual Group Experience

This group experience is open to a select group of women (6 – 8) two to three times a year. A tailor made experience for us, by us!
The goals of this group experience includes, but are not limited to:
Strengthening the unity between childfree sistahs in an intimate way.
Re-igniting your passion for life and self-love with the support and encouragement from others.
Creating a safe space for black girl magic and black women woes.
Increasing your confidence and wellness in areas of financial literacy, health, body positivity and more.
Check out our recent Sistah Circle Brunch!
Embrace Your Childfree Life with Pride!
Our collection is designed to uplift and inspire, letting you showcase your pride in being childfree while embracing your rich cultural heritage. We understand that your choice is a personal one and should be celebrated without any judgment. That is why our merchandise reflects the beauty, strength, and resilience of Black women who are living their best childfree life by choice or by circumstance!
We offer custom made #NoBibsBurpsBottles premium T-shirts to suit each and every wonderfully made body! Check out our other goodies too!
Check us out on Instagram!
Testimonials from Childfree Besties
"I have witnessed Dr. Angela L. Harris launch #NoBibsBurpsBottles from the ground up, and this is her baby, which is ironic, since her platform is all about Black women who are living our lives childfree. Through her heartfelt and thought provoking blog posts, motivational quotes and lively discussions in her Facebook group, as well as her podcast where she interviews childfree women and men, about living our lives, by choice, without children, Angela has become a powerful voice within a movement to ask society to acknowledge our choices living childfree, to encourage those who have made the choice, and to recognize the good things childfree women (and men) are doing in our communities as well as in our roles with the children in our lives as aunties, God parents, and mentors. If you haven't yet, be sure to support #NoBibsBurpsBottles and share with a childfree friend!"

-Kellea Tibbs (Writer/Event Planner)
Chief Creative Officer of The Ivywritermedia Company
"Dr. Angela Harris aka Doc Sirrah's creation of #NoBibsBurpsBottles for women who are 30+, single, chocolate and child free .... is absolutely BRILLIANT! Being a member of her group, I've come to realize just how much this platform for discussion is needed. She has created a very special, private, enjoyable, safe 'splace' (space + place) for this group of women that many in society view as a rare oddity. In this 'splace', we share our views, experiences, vent and just talk about what it's like to be single, chocolate and child free. It's always good to have somewhere one can communicate in a judgment free zone with like minded individuals. Kudos to you, Soror Doc Sirrah! I look forward to sharing the ride and cheering you on as #NoBibsBurpsBottles continues to grow."
-J.K. Hayes: Founder/Director of Transcending Lupus Support
Alliance of Northeast Louisiana aka TLSA of NELA
"Far too often, women are shamed for not having children. I love #NoBibsBurpsBottles because it inspires and encourages women to embrace child-free life. On a personal level, it's given me the confidence to own who I am in all areas of my life."
-Angela Mitchell, Founder of YANA 614
"I decided to become a part of #NoBibsBurpsBottles community because it's a community that I can relate to when it comes to being an African American woman over 30 that is childfree and ok with being childfree. I can express being childfree without being judged for my decision. I still feel important as a grown woman who's childfree BY CHOICE! It's a community where there's no pressure and no one is asking me why I'm not having kids. I'm proud to be childfree and the group doesn't make me feel bad in doing so!"
-Te'Cora J. Green, Naturalista